Pooh's second album on CBS record label, "Alessandra" follows on the same address of the previous "Opera Prima",pushing the group's sound towards even more sumptuous and orchestral arrangements. The musicians were in fact accompanied, both in the studio and in the theater tour that followed the release of the LP, by a 40-element orchestra! It was the first record for drummer Stefano D' Orazio, and the last one for bassist Richard Sheets, who then moved toward a promising solo career.
Side A:
1.La nostra età difficile
2.Noi due nel mondo e nell'anima
3.Mio padre, una sera
4.Nascerò con te
5.Io in una storia
6.Col tempo, con l'età e nel vento
Side B:
7.Signora
8.Cosa si può dire di te?
9.Via lei, via io
10.Donna al buio, bambina al sole
11.Quando una lei va via
12.Alessandra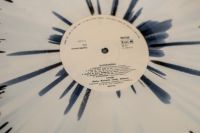 This Product was added to our catalogue on Tuesday 25 August, 2015.