Reissue; Limited 25th anniversary deluxe edtion.
limited high quality colour marble vinyl - made in Germany by Pallas Group - special artworks and bonus tracks
limited LP including "You Keep On Falling"
all 25th anniversary LP editions include a free
PSYCHEDELIC POWER PYRAMID!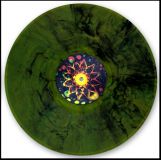 Customers who bought this product also bought the following products:
PSYCHEDELIC ROCK - 2LP gatefold cover,multicoloured Vinyl

Discovering Allmen Joy is like turning back time. It's like living those days when the sound was free and frank.

They make it worth to join the big stages together with the big stars

. Even if there was no phonographic evidence to remember their existence, hopefully now, thanks to this album, we can listen to their performance that seems to have been saved for us, a few contemporary chosen ones.

23,30 EUR

(16 % VAT incl. excl. Shipping costs)
All songs are filled with intense psychedelic guitar music that invokes the energy and passion of his influences - including Jimi Hendrix and Phil Keaggy of The Glass Harp - whilst also possessing the mystery and spiritual intensity that surrounds 70s US.

In Memory Of

Al passed away today 3rd Oct.2018.

19,40 EUR

(16 % VAT incl. excl. Shipping costs)
2LP, limited edition 500 copies ,black and colour vinyl

24,37 EUR

(16 % VAT incl. excl. Shipping costs)
Reissue limited edition 300 copies in trans-violent vinyl, fold out cover.

18,42 EUR

(16 % VAT incl. excl. Shipping costs)
This Product was added to our catalogue on Tuesday 22 September, 2015.