Mother Mooch are a five piece Fuzz Rock band from Dublin, Ireland.
This is a diverse and dramatic debut by Mother Mooch that has a lot to offer.
They've taken samples of punk, shoegaze, psychedelic,
alternative and mainstream rock and fused them all together
to forge a sound that's simultaneously singular and familiar.
The outcome is a melodic and multifaceted album that will appeal to a wide array of listeners.
"A wonderful and weird sounding mix of Psych, Desert Rock, Blues,
Grunge and Stoner Rock given a trippy modern makeover."
The band has a "classic rock" sound that blends many different styles from heavy psych to 90's grunge.
Side A
1.This Tempest
2. Sinners
3. My Song 21
4. Into The Water
Side B
1.L.H.O.O.Q.
2.Misery Hill
3.Hive Mind
4.Out On The Western Plain
Chloë Ní Dhúada - Vocals
Sid Daly - Guitar and vocals
Farl - Guitar
Barry Hayden - Bass
Danni Nolan – Drums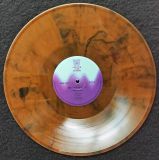 Customers who bought this product also bought the following products:
Special cardboard gatefold cover,coloured vinyl,lim.edition 500 copies.

18,50 EUR

(19 % VAT incl. excl. Shipping costs)
Limited edition in red vinyl, printed innersleeve.

16,90 EUR

(19 % VAT incl. excl. Shipping costs)
PSYCHEDELIC ROCK - 2LP gatefold cover,multicoloured Vinyl

Discovering Allmen Joy is like turning back time. It's like living those days when the sound was free and frank.

They make it worth to join the big stages together with the big stars

. Even if there was no phonographic evidence to remember their existence, hopefully now, thanks to this album, we can listen to their performance that seems to have been saved for us, a few contemporary chosen ones.

23,90 EUR

(19 % VAT incl. excl. Shipping costs)

1LP limited edition 750 numbered copies,split vinyl ( red/blue),incl.mini tourposter and postcard.

21,90 EUR

(19 % VAT incl. excl. Shipping costs)
CD;


Second album of the band from Alicante,Spain.


8,00 EUR

(19 % VAT incl. excl. Shipping costs)
This Product was added to our catalogue on Wednesday 12 October, 2016.