Psychedelic rock at it´s best ! Limited edition ,gatefold cardboard cover ,random colored vinyl.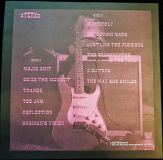 Customers who bought this product also bought the following products:
1 LP; Limited edition,splater vinyl, black-red.
Incl.The Revolutionary Psychedelic Power Pyramid. 

16,90 EUR

(19 % VAT incl. excl. Shipping costs)
This Product was added to our catalogue on Tuesday 12 May, 2020.