F/i are from Milwaukee, Wisconsin, and have been around since 1981, releasing a half-dozen LP`s.
The band started out as a unit elaborating on noise structures in the tradition of Throbbing Gristle or Nurse With Wound. They are also influenced by Hawkwind and Spacemen 3.
In 1983 they changed their name from The Surfin´ Führers to F/i.
Richard Franecki later went on to form Vocokesh but still returns to F/i once in a while.
The photo attached was taken during the sessions for Venusian Holiday.
Grant Richter, Brian Wensing, Jay Tiller, Cary Grace, Richard Franecki
Psychedelic/Space Rock ,United States.
LP; 300 copies limited edition,160g heavy,red vinyl.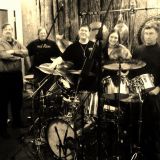 Customers who bought this product also bought the following products:
All songs are filled with intense psychedelic guitar music that invokes the energy and passion of his influences - including Jimi Hendrix and Phil Keaggy of The Glass Harp - whilst also possessing the mystery and spiritual intensity that surrounds 70s US.

In Memory Of

Al passed away today 3rd Oct.2018.

19,90 EUR

(19 % VAT incl. excl. Shipping costs)
1 LP; Limited edition,splater vinyl, black-red.
Incl.The Revolutionary Psychedelic Power Pyramid. 

16,90 EUR

(19 % VAT incl. excl. Shipping costs)
This Product was added to our catalogue on Sunday 26 April, 2015.