Reissue; Limited 25th anniversary deluxe edtion.
limited high quality colour marble vinyl - made in Germany by Pallas Group - special artworks and bonus tracks
limited LP including "You Keep On Falling"
all 25th anniversary LP editions include a free
PSYCHEDELIC POWER PYRAMID!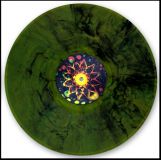 Customers who bought this product also bought the following products:
LP; Limited to 300 copies on black vinyl.

16,90 EUR

(19 % VAT incl. excl. Shipping costs)
This Product was added to our catalogue on Tuesday 22 September, 2015.