Mother Mooch are a five piece Fuzz Rock band from Dublin, Ireland.
This is a diverse and dramatic debut by Mother Mooch that has a lot to offer.
They've taken samples of punk, shoegaze, psychedelic,
alternative and mainstream rock and fused them all together
to forge a sound that's simultaneously singular and familiar.
The outcome is a melodic and multifaceted album that will appeal to a wide array of listeners.
"A wonderful and weird sounding mix of Psych, Desert Rock, Blues,
Grunge and Stoner Rock given a trippy modern makeover."
The band has a "classic rock" sound that blends many different styles from heavy psych to 90's grunge.
Side A
1.This Tempest
2. Sinners
3. My Song 21
4. Into The Water
Side B
1.L.H.O.O.Q.
2.Misery Hill
3.Hive Mind
4.Out On The Western Plain
Chloë Ní Dhúada - Vocals
Sid Daly - Guitar and vocals
Farl - Guitar
Barry Hayden - Bass
Danni Nolan – Drums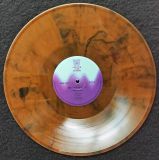 Customers who bought this product also bought the following products:
250 copies limited Souvenir 2LP Set with swirly psychedelic vinyl and 3D Pop Art Gatefold Cover.

50,00 EUR

(19 % VAT incl. excl. Shipping costs)
250 copies limited Pop Art Double Picture Disc Edition with mind blowing pychedelic effect packaging.

pre-orders welcome

45,00 EUR

(19 % VAT incl. excl. Shipping costs)
1 LP; Limited edition,splater vinyl, black-red.
Incl.The Revolutionary Psychedelic Power Pyramid. 

16,90 EUR

(19 % VAT incl. excl. Shipping costs)
2LP, limited edition 500 copies ,black and colour vinyl

25,00 EUR

(19 % VAT incl. excl. Shipping costs)
This Product was added to our catalogue on Wednesday 12 October, 2016.