F/i are from Milwaukee, Wisconsin, and have been around since 1981, releasing a half-dozen LP`s.
The band started out as a unit elaborating on noise structures in the tradition of Throbbing Gristle or Nurse With Wound. They are also influenced by Hawkwind and Spacemen 3.
In 1983 they changed their name from The Surfin´ Führers to F/i
Richard Franecki later went on to form Vocokesh but still returns to F/i once in a while.
The photo attached was taken during the sessions for Venusian Holiday.
Grant Richter, Brian Wensing, Jay Tiller, Cary Grace, Richard Franecki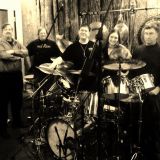 Kunden, die diesen Artikel kauften, haben auch folgende Artikel bestellt:
Neu remastered von Al Simones 2017.

Alle Songs sind erfüllt von intensiver psychedelischer Gitarrenmusik, die die Energie und Leidenschaft seiner Einflüsse - darunter Jimi Hendrix und Phil Keaggy von The Glass Harp - hervorruft und gleichzeitig das Mysterium und die spirituelle Intensität besitzt, die die USA der 70er Jahre umgibt.

In Gedenken an


Al verstarb im Oktober 2018.

19,90 EUR

(inkl. 19 % MwSt. zzgl. Versandkosten)
2 × Vinyl, LP, Album, Limited Edition, Reissue, Green/Black Marbled

23,90 EUR

(inkl. 19 % MwSt. zzgl. Versandkosten)
1 LP; Limited edition,splater vinyl, black-red.
Incl.The Revolutionary Psychedelic Power Pyramid.

16,90 EUR

(inkl. 19 % MwSt. zzgl. Versandkosten)
Diesen Artikel haben wir am Sonntag, 26. April 2015 in unseren Katalog aufgenommen.