This special edition contains unreleased material, studio and live recordings.
The material contained herein represents different aspects of their work from 2005 to 2013.
Recorded at various places.
It is not meant to be a "retrospective " or a "greatest hits"/hits!!!) collection! To that end, four of the six discs themselves are not numbered, merely given a symbol.
The individual tracks themselves are not in any chronological order within each disc. Neighbouring pieces can be separated by years. Thought was given to the running order, and there is some "logic" to the placement...Thus, the discs can be played in any order. There is a variety of material here, and many of the pieces are jarringly different versions of pieces that were released elsewhere, others are variations of "jam" songs we do. The other two discs are complete works unto themselves.
Welcome to My Cloud was recorded a few years back for a record label that went out of business, causing the work to be "shelved" .
We are grateful to have a chance to release it.
The other disc Why Not Now?...Alan! is a re-recording/re-telling of a CD recorded in mid 1980s by another band.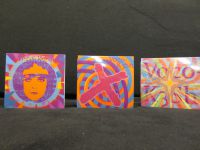 Customers who bought this product also bought the following products:
The Infinite Trip: Wonderful psychedelic rock from the far Eastern flatlands of the UK.

1LP; limited edition 300 copies in 180 g red vinyl.

19,90 EUR

(19 % VAT incl. excl. Shipping costs)
PSYCHEDELIC ROCK - 2LP gatefold cover,multicoloured Vinyl

Discovering Allmen Joy is like turning back time. It's like living those days when the sound was free and frank.

They make it worth to join the big stages together with the big stars

. Even if there was no phonographic evidence to remember their existence, hopefully now, thanks to this album, we can listen to their performance that seems to have been saved for us, a few contemporary chosen ones.

23,90 EUR

(19 % VAT incl. excl. Shipping costs)
2LP, limited edition 500 copies ,250 white and 250 copies red vinyl.

21,90 EUR

(19 % VAT incl. excl. Shipping costs)
Limited edition in red vinyl, printed innersleeve.

16,90 EUR

(19 % VAT incl. excl. Shipping costs)
This Product was added to our catalogue on Friday 28 February, 2014.